General FAQ's
How do i become a member?
Visit our Sign Up page, click the 'Join Now' button and register your details including a username and password. You will then be redirected to PayPal to pay the subscription fee. Once you have completed your registration you can login to the iPhone App, Android App or website.
When i become a member do i have access to all features?
Yes. Regardless of which membership plan you choose, the user has full access to all of the Charted Waters map services, features, updates and support.
How does the annual subscription work?
With the purchase of an annual subscription, you will have full access to the Charted Waters online map services (members area).
The subscription term is 1 year and is non-refundable. This is a license for a single user.
Before the yearly subscription expires, you will receive an email notification informing you about the expiry date and then-current renewal price.
Refunds and Cancellations
If you are having problems with your Charted Waters product please contact support@chartedwaters.com.au for further information.
The Charted Waters subscription term (1 year or 1 month) is non-refundable.
You can cancel your subscription anytime by going to your Account Settings and clicking the 'Cancel Subscription' button.
Charted Waters does not refund for unused portions of subscriptions. When you cancel your subscription, you will continue to have access until the end of your current subscription term. At that time, Charted Waters will remove access to our maps however you will still be able to login and browse other areas of the site.
What payment methods do you accept?
Feedback & Support
If you are having problems or would like to offer feedback on your Charted Waters product please email us on support@chartedwaters.com.au, we are happy to help.
SD Card FAQ's
How to turn on "Shaded Relief" on the HDS Touch series?
Tap the 'Chart Options" menu item then the "Imagery" button leading to display options of "Shaded Relief", "2D mapping" or "No Contours".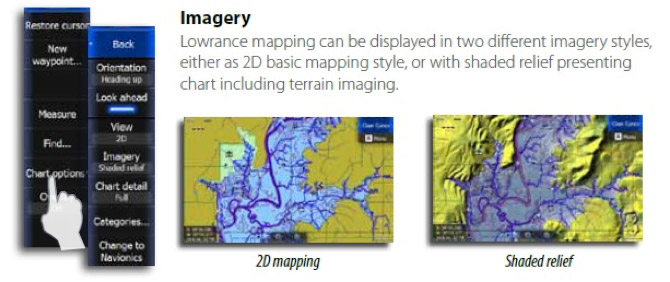 Will these maps work on older Lowrance models?
Yes, older GPS/Combo units are supported, however require a different version of the map. They also won't display 3D Relief, contact support with model details for further information.
The map will not display on my Lowrance HDS GPS/Combo
How do I ensure the settings are switched to Lowrance (not Navionics)?
With the chart page set to active (orange box) or at full screen, select "Chart Options", "Categories" & select "Change to Lowrance"
How do I turn chart items on & off on my sounder?
With the chart page set to active (orange box) or at full screen, select "Chart Options", "Categories" & by selecting the following check boxes will hide the chart item;
(AREA) Nautical – will hide river courses & islands,
(LINE) Nautical – will hide depth contours, creeks & lagoons. (Note – drop down under this section will hide these individually),
(LINE) Transportation – will hide the roads,
(POINTS) Goods/Services – will hide the camping spots,
(POINTS) Nautical – will hide Navigation Aids, Boat Ramps, Laydowns etc.
How do I ensure that I get information about upgrades and new developments?
Register with Charted Waters on the website and you will receive periodic information about new developments and changes.
iPhone, Android & FAQ's
How do I stop my iPhone/IPad from going to "sleep" while I'm viewing the maps?
Go to "Settings", "General", "Auto-Lock" & select "Never". Remember to re set it afterwards or your battery might suffer.
Charted Waters App Help Guide
A Help Guide is located within the App. Go to the Main Menu > Help.