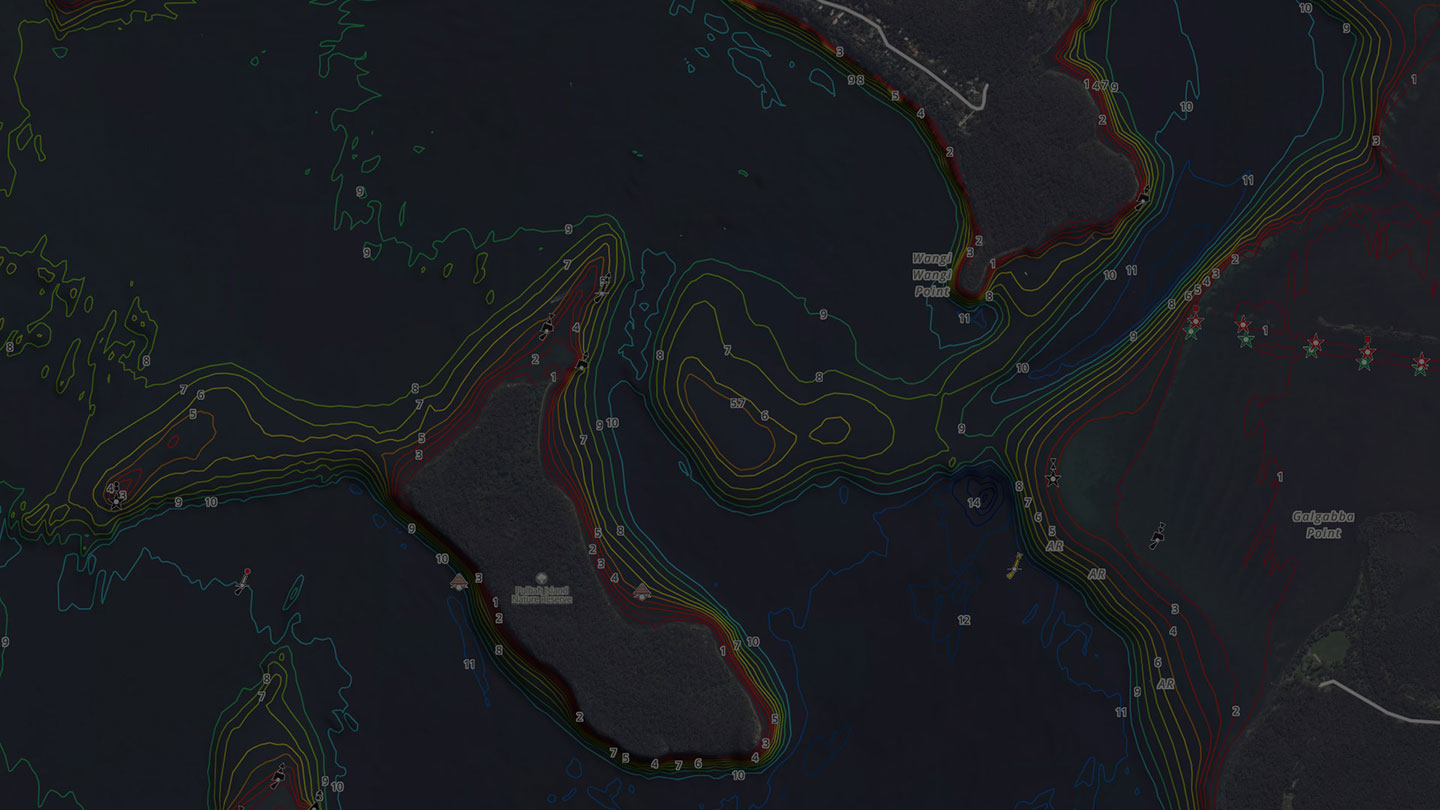 Our Maps
Maps to enhance your fishing experience so you can make the most of your time on the water.
OUR MAPS
Below are the Charted Waters Fishing Maps currently available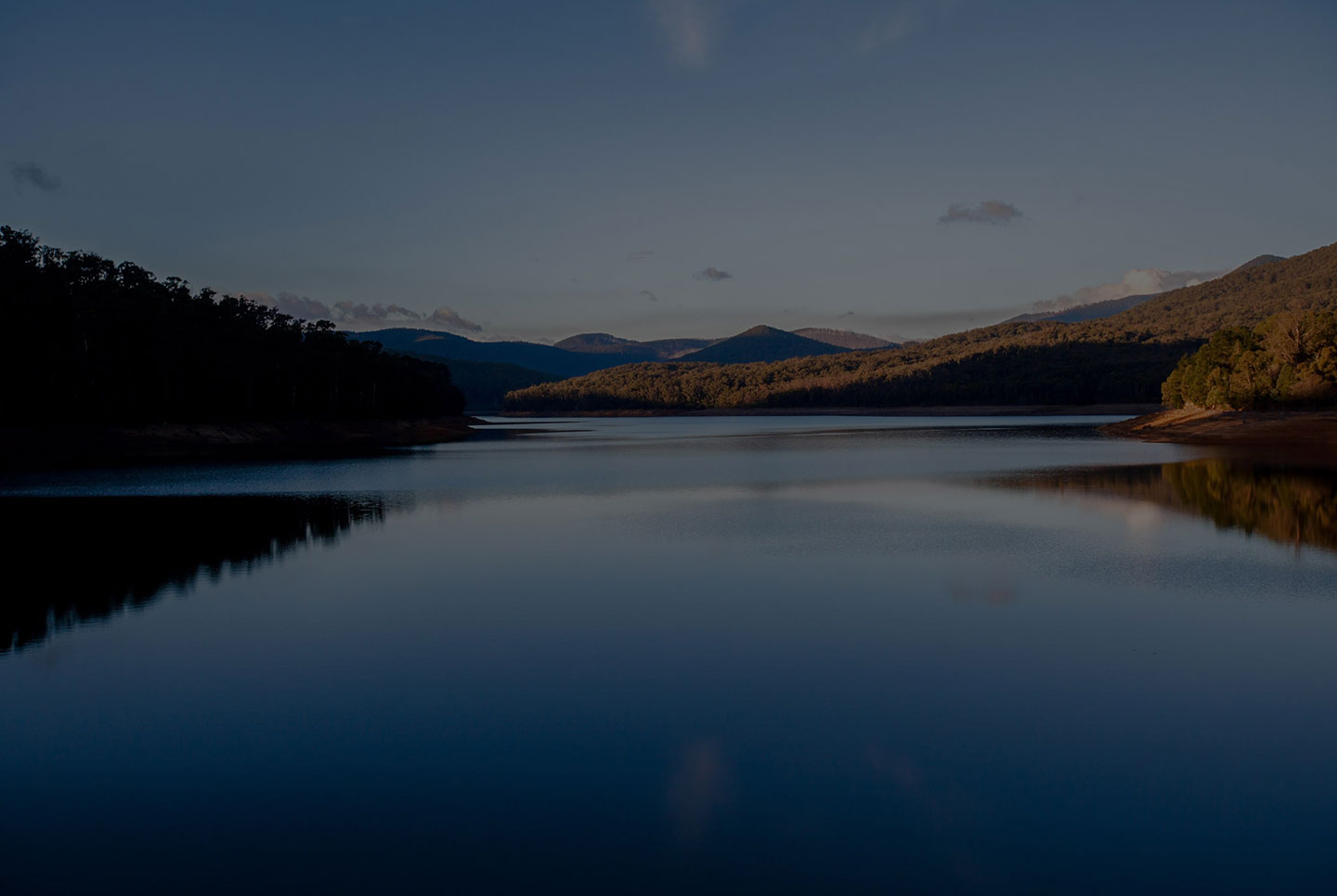 Get a head start on finding the best fishing grounds
With the valuable information these maps provide, you can find great new fishing spots in just a few short minutes
Reading Our Maps
Multiple options to give you the advantage
Understanding your target fish environment will help you identify areas to fish, the more you know about your target fish the more you know what to look for on your map.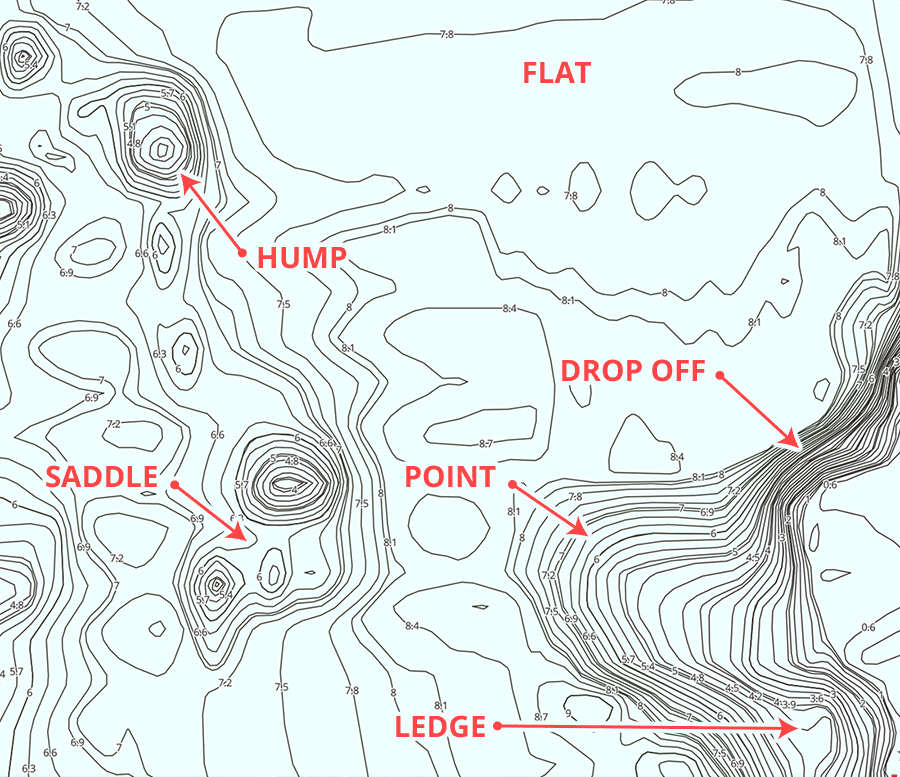 Contour Lines
One of the most important of all symbols on a fishing map is the contour line. These tell you the rise and fall of the lake bottom revealing drop offs, humps, saddles and flats.
The closer the contour the steeper the drop off, the wider the interval the flatter and more gradual the slope.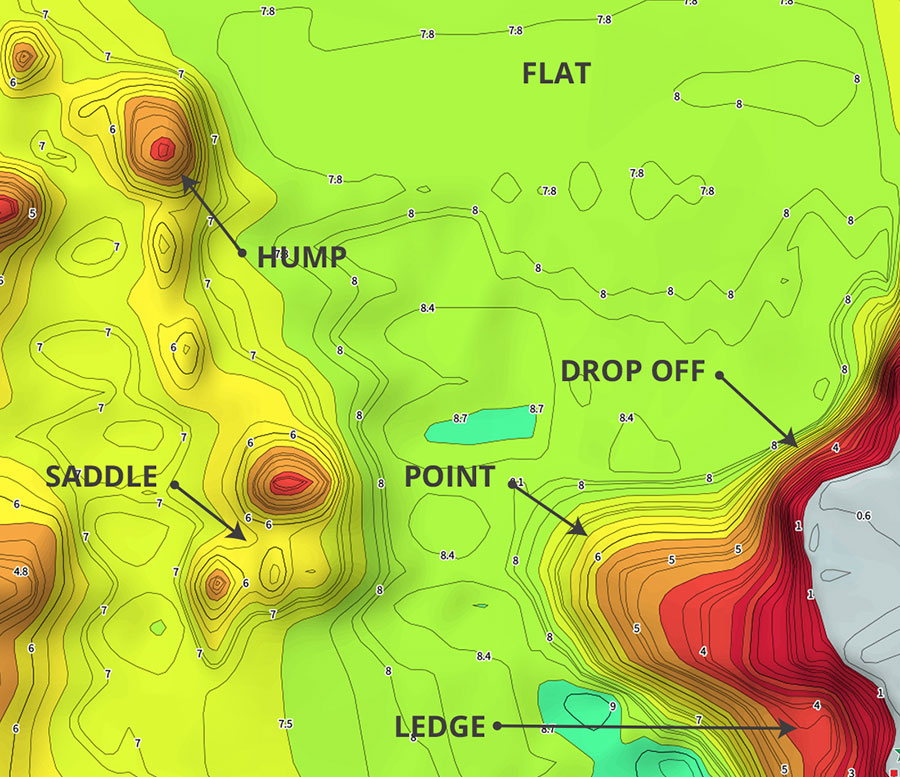 Bathymetric Bottom Mapping
Bathymetric bottom mapping drastically increases the visibility of underwater structures such as drop offs & humps, taking plain old contours to the next level. These maps are colour coded to clearly define water depth and to help you better understand the underwater landscape.
Aerial Imagery
Aerial maps can give an angler who knows how to read them a huge advantage. Focus on the two most important factors, underwater structure & channels. Probe the areas you plan to fish for important features like underwater vegetation, oyster beds, potholes in vegetation flats, mangrove trees and rocky outcrops. Areas with heavy current will show in the form of trenches on the bottom, predator fish often seek locations with current so their meals can be brought to them. Combine this with our depth contours and you should have no problem locating the most productive fishing grounds.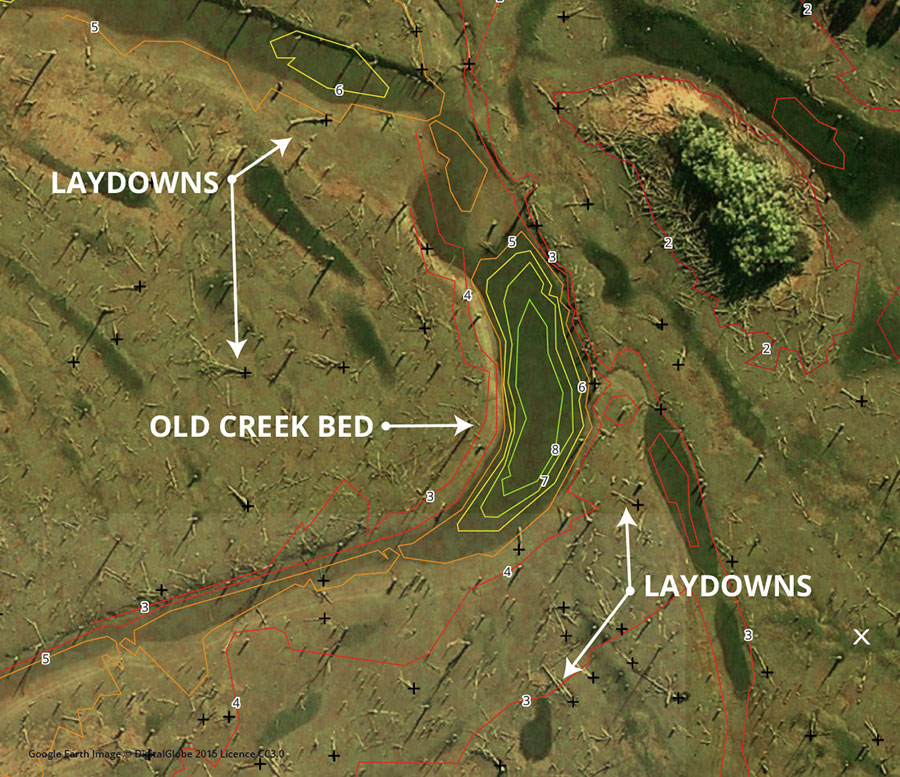 Low Water Aerial Imagery
Low water aerial imagery is a game-changer, every angler wants to know what lies beneath the water - these maps do exactly that, revealing all sorts of hidden fish-holding details like shallow humps, fallen trees, laydowns, big rocks, deep holes, old creek beds and rocky bottoms - they show everything. Once you know what habitat your target fish loves, they will have nowhere to hide. Available only on selected maps.
Map Key
Map Colouring
Colours used throughout the app and their meanings.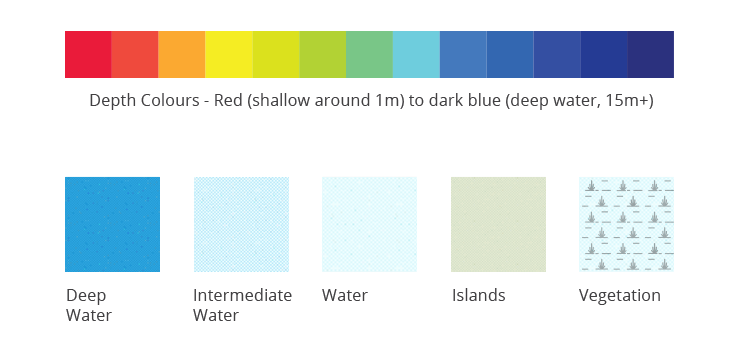 Navigation Aids
Structures & Maritime Markers are plotted on selected waterways. Visit Roads & Maritime for more information.


Special Thanks
Thanks to the NSW Roads & Maritime Services for providing:
channel markers and other aids to navigation
formed boat ramps and public wharves/jetties
areas of assumed shallow water (depth of less than approximately 2 metres in tidal waters and the shallower water in inland waters at full supply)
And to the Office of Environment and Heritage NSW and Sydney Water Monitoring Services.
All maps and charts are for reference purposes only. Not for navigation. Our maps use OpenStreetMap.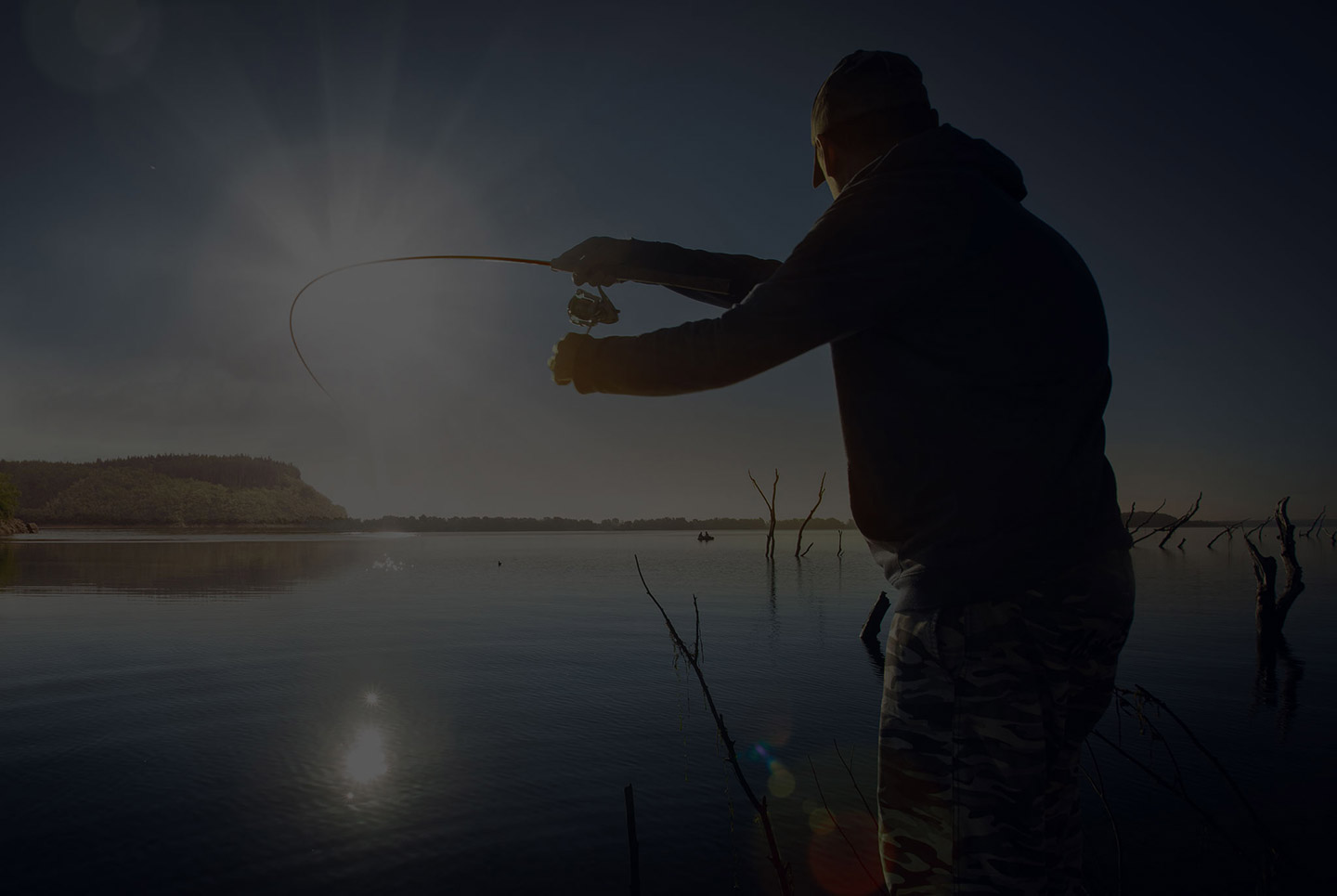 People just like you are loving Charted Waters
This upgrade has made it a heap more user friendly, used it the other day to find a shallow ledge and cracked three cod in four casts! A very handy tool for anyone that fishes Mulwala.

This really is an unbelievable product- make sure you check it out. Reveals an amazing amount about Mulwala.

The ability to look at both marked and unmarked channels, depth contours, waypoints, previous catches and a few thousand lay downs at the touch of a button gives me all the extra time to concentrate on the important thing CATCHING fish! I highly recommend any keen angler who fishes Lake Mulwala to give it a go. You won't be disappointed.

Used the app myself all weekend to fish the edge of a few snaky creeks. Found it great and would not be without it.

We have received the upgraded Map Card for our new finder and we couldn't be happier! Love the detail and some of the old creek beds, there would have been no way in hell we would have found these without the map! We both thank you very much for putting these map cards together. Makes our fishing and boating experience on Lake Mulwala so much better with lots more water now opened up to us.