Merimbula is now fully surveyed from the highway bridge upstream and including the top lake, with full depth data, 3D Shaded Relief, navigation aids etc. After surveying the top lake I will certainly fish it differently next time I visit. There are a large number of "humps" spread throughout the mid-section of the lake, some of these rise 4 meters into the water column, whether they are bommies or sand (mud) hills I am unsure as I didn't get the opportunity to fish them and snag some bottom. I do know that they hold bait and I sure know what I'll be targeting around them at slack tide next visit. There is no better way to fish these humps than in 3D Shaded Relief view.
Look at the screen shot above from the iPhone app (not far away from being released) where the light blue channell sneaks in behind the first humps!! The main shot is from the HDS Touch showing a zoomed in shot of the same section.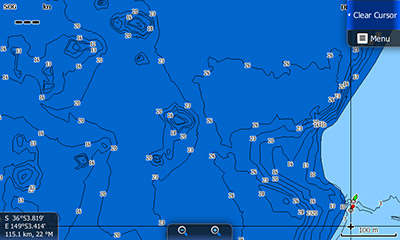 The weed bed surrounding the lake is very prominent with its edge consistently around the 3.9 meter  (13ft) mark. Now with depth contours available, fishing this edge is much more precise, just follow the line.
Unfortunately the wind blew me off Pambula Lake but we did manage to get some coverage of the rivers. I use plural for rivers because I was told I wouldn't get into the Yowaka River, waiting patiently for the tide to provide some coverage over the sandbar near the mouth saw me creep through on the electric. Although I didn't have much time to explore the Yowaka properly it was almost a fish a cast with a number of flathead around the 40cm mark eager to jump on a 100mm wriggler in bloodworm. Can't wait to get back and explore this river further.
Follow us on Facebook at Charted Waters – Australian Fishing Maps.